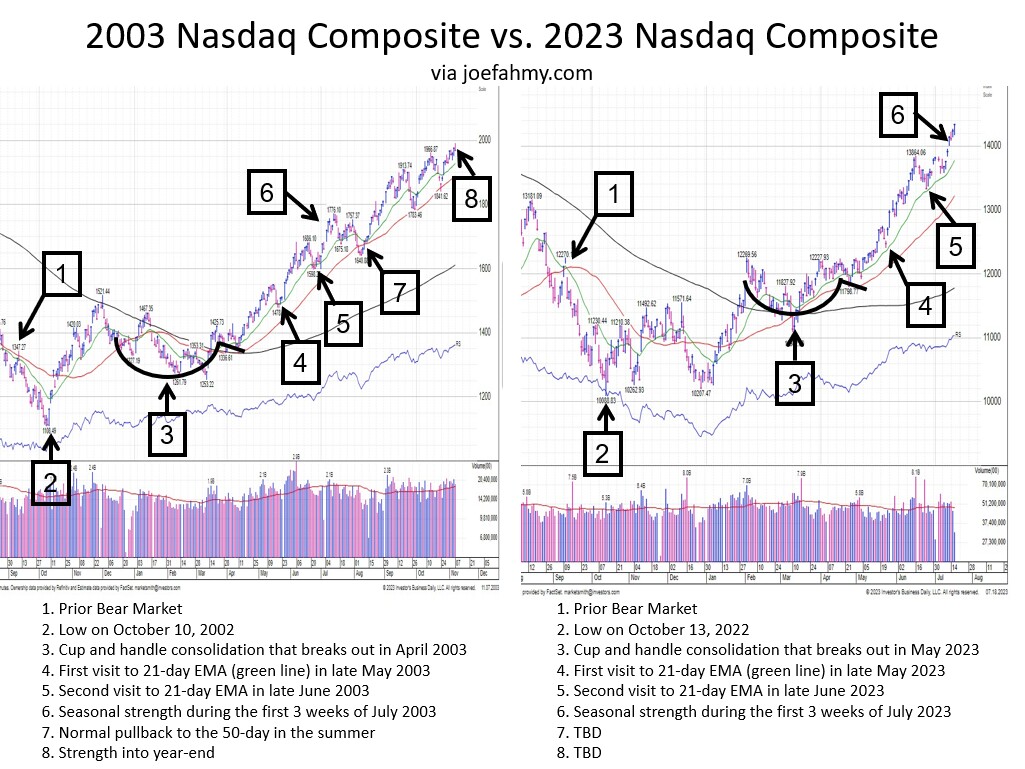 Above, you will find a chart that compares the Nasdaq Composite of 2003 vs. 2023. I was inspired to look into this when I realized the market bottomed on October 10, 2002, and then bottomed recently on October 13, 2022, almost to the EXACT date 20 years later! When I looked into this further, I saw even more similarities, which are numbered below the chart. I realize that history doesn't always repeat itself, but it does tend to rhyme. Now, the big question is what will happen for the remainder of 2023?
As I've discussed over the past few months, we're in a new bull market that's powered by AI. Every great market throughout history has been fueled by an invention that has revolutionized our lives and enhanced productivity. I believe AI is that next innovation that will lead us higher over the next few years. Will the move be straight up? Of course not! We will have normal pullbacks and corrections along the way. For example, shorter-term, it wouldn't surprise me if we have a normal visit to the 50-day moving average over the seasonally weak months of August and September. This would be a healthy consolidation before a potential move higher in the fourth quarter. As always, know your timeframe, have your own plan, and stick to your investment objectives. Thank you and good luck!
For additional commentary, please watch the video below:

I can be reached at: jfahmy@zorcapital.com.
Disclaimer: This information is issued solely for informational and educational purposes and does not constitute an offer to sell or a solicitation of an offer to buy securities. None of the information contained on this blog constitutes a recommendation that any particular security, portfolio of securities, transaction, or investment strategy is suitable for any specific person. From time to time, the content creator or its affiliates may hold positions or other interests in securities mentioned on this blog. The stocks presented are not to be considered a recommendation to buy any stock. This material does not take into account your particular investment objectives. Investors should consult their own financial or investment adviser before trading or acting upon any information provided. Past performance is not indicative of future results.