This past week, the market sent a loud and clear message that Artificial Intelligence (AI) is a game changer. Many companies are being completely repriced because of the revolution in AI, and when we look back at 2023, many will point to last week as the pivotal moment of the year.
Now, before you accuse me of being overly dramatic, please hear me out. Every great market throughout history has been fueled by an invention that's revolutionized our lives. Examples include railroads, television, airlines, drug discoveries, personal computers, cell phones, and the internet. AI will be the next innovation that will increase productivity and lead us higher over the next few years. Respected investor Brad Gerstner called AI "One of the most significant technology disruptions of our lifetime, probably bigger than the internet itself."
For those that are screaming "It's a bubble!" Please keep in mind that applications like ChatGPT and Bard JUST CAME OUT!!! In fact, ChatGPT is the fastest application to reach 100 million users, as it did so in only two months. In addition, there are no AI IPOs like there were dot.com IPOs in the late 90's. People are in such a rush to refute a new technology when most of retail is not involved (or even looking to short these stocks) instead of jumping on board. Remember, moves in the market can go on for much longer than we expect.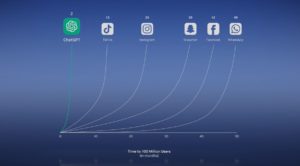 Last week wasn't just an Nvidia moment. Earlier in the quarter, Microsoft and Google already discussed the huge demand for everything AI related. Last week, Marvell Technologies said "While we are still in the early stages of our AI ramp, we are forecasting our AI revenue in fiscal 2024 to at least double from the prior year and continue to grow rapidly in the coming years." Enterprise software pioneer Tom Siebel said "In 40 years in the information technology business, I've never seen anything quite like this. The demand for Enterprise AI is huge and it's soaring."
Back to Nvidia, in my 27 years in finance, I have never seen a company who was estimated to do $7.2B in revenue guide over 50% higher to $11B. During the pandemic, Zoom was one of the greatest revenue growth stories I have ever seen, but that was from $300M to over $4B. Considering the larger numbers, Nvidia's guidance is insane! I think many people on Wall Street were not sure if AI was a fad, but last week showed us that enterprise spending on AI is just getting started and according to Wedbush analyst Dan Ives "the monetization of AI for stalwarts like Microsoft, Alphabet, Amazon, Oracle, Meta, Apple, and Salesforce is well underway."
While many might point to the difficult macro backdrop and recession worries, AI is likely to be one of the most investable tech themes we've seen in a while. I wrote about the upcoming rally two months ago in this article titled "Forget the Macro and Focus on Price." As I said in the beginning, AI is a game changer, and the AI revolution is real. Not just for Nvidia but for the broader economy. The age of AI is here. Right now.
I can be reached at: jfahmy@zorcapital.com.
Disclaimer: This information is issued solely for informational and educational purposes and does not constitute an offer to sell or a solicitation of an offer to buy securities. None of the information contained on this blog constitutes a recommendation that any particular security, portfolio of securities, transaction, or investment strategy is suitable for any specific person. From time to time, the content creator or its affiliates may hold positions or other interests in securities mentioned on this blog. The stocks presented are not to be considered a recommendation to buy any stock. This material does not take into account your particular investment objectives. Investors should consult their own financial or investment adviser before trading or acting upon any information provided. Past performance is not indicative of future results.