The market could be setting up for a tradeable rally over the near-term for the following reasons:
1) 90% of what I use to judge the health of the market is the price action of growth stocks. Focusing on price not only helps to shut out the noise, but it also gives me a clearer picture of what's truly happening in the market. Right now, there are tons of stocks looking great technically and fundamentally. They are mostly coming from the following sectors: Software, Semiconductors, Retail (Restaurants and Clothing), and Biotech/Medical.
2) What about the bleak macroeconomic picture? The stock market is a discounting mechanism. It trades on what's going to happen 6 to 9 months from now. The big institutions have not been consistently putting money into the market over the past year because of rising rates and higher inflation. The Fed is done raising rates for the year. Even if they do one more hike, the market is starting to anticipate the end of their current rate hiking cycle and potential rate cuts later this year. In addition, the inflation data is slowly coming down.
3) Sentiment is fairly muted. Most people don't believe there's much upside to this market. My feeling is they are overthinking the macro picture and not being open-minded that the market has priced in a lot of the bad news already. The market tends to fool the majority and a move to the upside would surprise most people right now.
4) According to Ryan Detrick, Chief Market Strategist at Carson Group, LLC, when the S&P 500 is up more than 5% in January, it digests its gains and begins to move out of its consolidation around mid-April. The average gain is +23% for the year, and those numbers are even better (+30%) when January is strong after a negative year (which we had in 2022).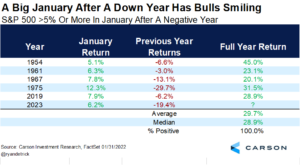 5) Three large cap stocks are potentially emerging from larger technical bases: Visa (V), Chipotle Mexican Grill (CMG), and Booking Holdings (BKNG – formerly Priceline). These are a diverse group of stocks covering many sectors of the economy. My feeling is they wouldn't be looking strong if the economy was really that weak.
I love many stocks right now that I believe have great growth prospects. Companies that are still in their early growth stages and can potentially outperform over the next 6 to 12 months. The main factor that's been holding them back is the overall pressure of the recent bear market. If the market continues to anticipate healthier conditions, there could be some strong opportunities in many growth stocks going forward. Good luck!
I can be reached at: jfahmy@zorcapital.com.
Disclaimer: This information is issued solely for informational and educational purposes and does not constitute an offer to sell or a solicitation of an offer to buy securities. None of the information contained on this blog constitutes a recommendation that any particular security, portfolio of securities, transaction, or investment strategy is suitable for any specific person. From time to time, the content creator or its affiliates may hold positions or other interests in securities mentioned on this blog. The stocks presented are not to be considered a recommendation to buy any stock. This material does not take into account your particular investment objectives. Investors should consult their own financial or investment adviser before trading or acting upon any information provided. Past performance is not indicative of future results.