The world of electric cars is still in its infancy stages. Electric cars are today what cell phones were 20 years ago. What I mean by that specifically is about 20 years ago, people were just starting to get cell phones and you were seeing more and more of them around. Today, land lines still exist but almost everyone has a smart phone. The same thing will happen with electric cars. 20 years from now gas cars will still exist but almost everyone will be driving an electric car.
The only company that has got it right so far is Tesla (Symbol: TSLA). Its stock continues to be very controversial and polarizing as bulls and bears fight all day about its valuation and its fundamental story. Here are 5 reasons why I feel the stock still has more room to the upside over the long term.
1) If you simply use the Peter Lynch approach and look around you, you will notice more and more Tesla's on the road. Yes, I realize they have competition but I haven't seen many offerings on the road from other car companies. I've heard that BMW and Mercedes (both great companies) have electric cars but I have yet to see one. I've seen Chevy Volts on the road but I don't consider that competition, as it's not an apples to apples comparison. Given the choice, almost everyone would choose even a lower-end Tesla if they could afford either one.
2) The relative strength is very impressive. Last week, the company announced a $2 billion stock offering, an SEC subpoena looking into some of its financing arrangements, a recall of 3,200 Model X vehicles in China AND received three downgrades from various financial analysts. And guess what? The stock STILL FINISHED UP +6.95% for the week! As I always say, it's not the news but the reaction to the news that counts. Considering all this negative news, it's very impressive that the stock held up so well, especially given its strong run so far this year. In other words, all these headlines were a great excuse to take profits and yet the institutions continued to support the stock.
3) In my 21 years on Wall Street, I don't remember a stock being hated so much as Tesla. Its short interest continues to be very high and the number of people cheering for it to go down is astonishing. For example, on 2/5/20 when the stock was dropping, I noticed many people cheering for it to tank as if they were watching a sporting event. What's even more pathetic is many of these people don't even have a position in the stock. I've never understood the concept of hating a stock for going up and making people money. It's almost as if these people hate success. Since the market tends to fool the majority, a move higher in the stock would continue to fool the majority of people who hate the stock.
4) I follow unusual options activity in the stock market and for the past few months I have seen some INSANE trades go through on Tesla. These aren't people buying 10 or 20 contracts; these are institutions buying blocks of $10M to $50M worth of contracts. For example, last Thursday, February 13th, someone bought 1500 worth of January 2021 $950 calls for $127.50. That is over $19M in option premium. The scary thing is I have seen about 20-30 trades like this over the past few months and they have been dead right so far.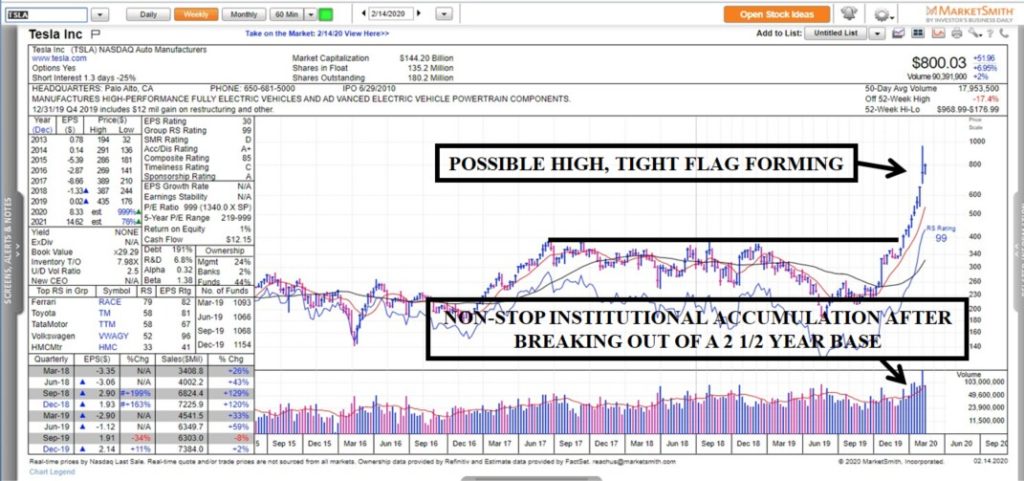 5) For those who follow technicals, the stock could be forming a high, tight flag right now. I won't bore you with the details, but the basic concept behind this technical formation is when a stock doubles and barely gives anything back, it could lead to higher prices after a brief consolidation. Again, this is not a recommendation; it is simply an interpretation of the strong technicals, especially given the negative news last week.
The bottom line with many explosive growth companies is that you can't use traditional valuation metrics to value companies that are changing our lives and revolutionizing the way we do things. You have to be open-minded that the stock is climbing because of something that is not known to the public yet. For example, maybe the company will license its battery technology to all the other car companies and make royalties to significantly boost their bottom line. Who knows? It is likely something else that very few people are thinking about. All I know is that 20 years from now, the majority of roads will consist of electric cars and Tesla is the only company that has got it right so far. Why would you fight that?
Full Disclosure: I currently hold a position in TSLA for clients.
I can be reached at: jfahmy@zorcapital.com.
Disclaimer: This information is issued solely for informational and educational purposes and does not constitute an offer to sell or a solicitation of an offer to buy securities. None of the information contained on this blog constitutes a recommendation that any particular security, portfolio of securities, transaction, or investment strategy is suitable for any specific person. From time to time, the content creator or its affiliates may hold positions or other interests in securities mentioned on this blog. The stocks presented are not to be considered a recommendation to buy any stock. This material does not take into account your particular investment objectives. Investors should consult their own financial or investment adviser before trading or acting upon any information provided. Past performance is not indicative of future results.