I wouldn't be surprised to see a pullback or consolidation over the near-term for the following reasons:
1) I don't think the Fed will give the markets what it wants in their upcoming meeting on Wednesday, July 31st. The market will get a ¼ point rate cut, but it won't get what it really wants which is guidance that the Fed will cut 3 or 4 more times over the next year. This rate cut is controversial enough, so I can't see Fed Chair Powell doing a complete 180 degree turn from wanting to raise rates last fall to opening up the flood gates and hinting that this will be the start of an easing cycle. Janet Yellen said it best in her talk over the weekend: "In light of the risks, I would be inclined to cut a bit. I wouldn't see this as the beginning (unless things change) of a major easing cycle."
2) We are heading into two of the traditionally weak months of the year (August and September).
3) Some of the sentiment measures I look at are getting a little too overheated and we might need to shakeout some of the excess over the near-term.
4) Many of the leading growth stocks (specifically in the software sector) have become crowded trades. These stocks need time to consolidate and build new buyable bases. I even tweeted out last Friday that there's nothing wrong with locking in some profits into the strength. I did this because many of the stocks were getting extended and there was too much giddiness on my Twitter feed.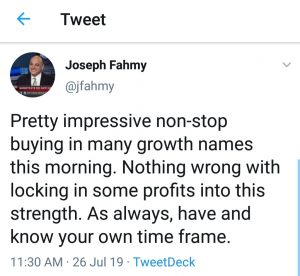 If I am right about this, please keep in mind that we can consolidate through price or through time. In other words, the market could just move sideways in a range to digest its gains from earlier this year. Also keep in mind that this is not investment advice. It's up to you to define whether you are an investor or a trader and adjust your investment levels accordingly. I'm bullish over the next 6-12 months, but as I have said many times, we will have normal corrections, pullbacks and shakeouts along the way. If we get one over the next few months, it might be a great opportunity to buy some of these growth names at lower prices and near logical areas of support.
I can be reached at: jfahmy@zorcapital.com
Disclaimer: This information is issued solely for informational and educational purposes and does not constitute an offer to sell or a solicitation of an offer to buy securities. None of the information contained on this site constitutes a recommendation that any particular security, portfolio of securities, transaction, or investment strategy is suitable for any specific person. From time to time, the content creator or its affiliates may hold positions or other interests in securities mentioned on this site. The stocks presented are not to be considered a recommendation to buy any stock. This material does not take into account your particular investment objectives. Investors should consult their own financial or investment adviser before trading or acting upon any information provided. Past performance is not indicative of future results.