Readers of my blog know that I'm a big fan of many software companies. One that could have decent potential over the next 6-12 months is network security firm CyberArk Software (Symbol: CYBR). They develop solutions that protect organizations from cyber attacks. The company offers a privileged access security solution to secure, manage, and monitor account access and activities.
Technicals – Over the past year, the weekly chart is showing strong institutional accumulation (highlighted below). I really like the prior uptrend created during most of 2018 and the current base that is forming over the past 4 months.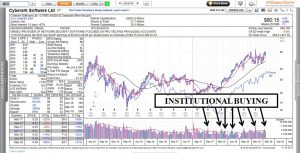 Fundamentals – The company is steadily growing revenues around 25% the past 8 quarters. Earnings have accelerated nicely the past 3 quarters and they have a history of strong cash flow. In their last earnings report (Nov 2018), the company reported EPS of 0.48, well above the street consensus of 0.27. Their top-line revenue beat, combined with increased utilization of Professional Services, led to record high gross margins of 88.5%. They also revealed that they now serve 50% of the Fortune 500.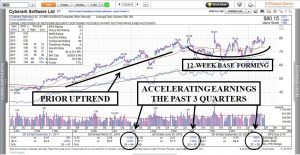 Charts are provided by MarketSmith. To learn more or for a trial, click here!
Full Disclosure – I currently hold a position in this stock for clients (subject to change at any time). The purpose of this blog post is idea generation and to show you how I combine both technicals and fundamentals to help increase my probabilities of a trade working out. It is impossible to guide people how to trade any idea because everyone has different timeframes. If the market cooperates, I feel this is a stock that can appreciate 30-50% over the next 6-12 months. The stock closed Friday (1/25/19) at $80.15 and has strong support at $65. Good luck!
I can be reached at: jfahmy@zorcapital.com.
Disclaimer: This information is issued solely for informational and educational purposes and does not constitute an offer to sell or a solicitation of an offer to buy securities. None of the information contained on this blog constitutes a recommendation that any particular security, portfolio of securities, transaction, or investment strategy is suitable for any specific person. From time to time, the content creator or its affiliates may hold positions or other interests in securities mentioned on this blog. The stocks presented are not to be considered a recommendation to buy any stock. This material does not take into account your particular investment objectives. Investors should consult their own financial or investment adviser before trading or acting upon any information provided. Past performance is not indicative of future results.