My friend Ryan Detrick posted a chart recently showing that bullish sentiment among individual investors dropped to its lowest level in 23 years! There are fewer bulls now than in March 2009 and March 2003. For those who don't remember, the low in March 2003 was after a brutal 3-year Bear Market that started with the dot com collapse and extended past 9/11. March 2009 was after a -50% decline that crushed the housing market and almost brought down the entire financial sector.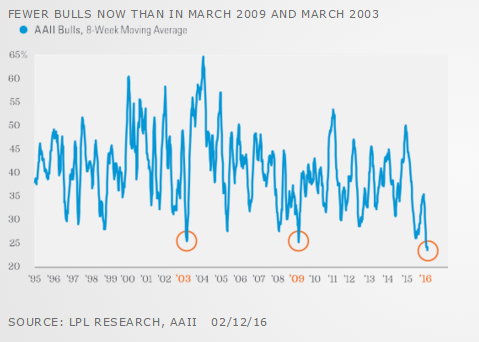 What's amazing to me is that this current correction has neither seen the time nor the percentage decline as the other corrections, yet people are LESS bullish. This leads me to wonder what is different this time? It could be a combination of reasons such as information is disseminated faster, everyone has real-time quotes (which makes people more nervous and quicker to react), the ability to trade is easier due to advances in technology, and 2009 is still fresh in people's minds…leading many traders to have one foot out the door.
Whatever the reason, all I know is that the market tends to fool the majority and most people are bearish right now. In addition, other sentiment surveys are showing people are lightly invested, short interest is at record highs, and the S&P 500 and Dow closed today above their 50-day moving averages. I'm not saying we are out of the woods, but the huge bearish sentiment is definitely something to consider.
I can be reached at: jfahmy@zorcapital.com
Follow me on Twitter @jfahmy
Follow me on StockTwits @jfahmy