I was very fortunate to get a ticket to the Second Presidential Debate on October 16, 2012. While waiting in line to get in, I started talking to 2 Hofstra University students (1 male, 1 female) who won tickets to the event through the student lottery. For 30 minutes, we were laughing our asses off! I felt like a stand-up comedian and the 2 students were in tears laughing during our conversation…until the most horrible question came up…who are you voting for?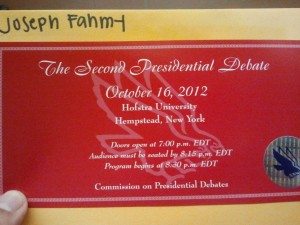 I told them I'm a Mitt Romney supporter and that was the end of our fun. I am not exaggerating, for the next hour we stood in line, they didn't say ANOTHER word to me! If I told them I had the Ebola virus and killed 10 small kittens earlier that day, they would have been warmer to me. All I could think was: Who CARES who I'm voting for? I didn't care who THEY were voting for? Obviously, they were Obama supporters and God Bless them. It didn't bother me. It's every American's God given right to vote for whomever they choose. I wasn't trying to impose anything on them, I simply answered their question.
I was immediately reminded of Al Gore's words at the SALT Conference earlier this year. He said never in his life has he seen this country "SO DIVIDED." He said it's amazing how the Presidential race is roughly 46% vs. 46% and the remaining undecided voters are also split down the middle. Not only is this country divided, but the more I talk to people, the more EXTREME HATRED I notice that each side has for the other.
It's truly sad that we live in a country where there is so much bitterness. It seems like the only time we come together is when an extreme catastrophic event happens such as 9/11 or Hurricane Sandy. Why does it take death and destruction to bring us together? If we stop for a second and realize how blessed and how lucky we are to live in this country, maybe people wouldn't be so miserable and full of hate.
As I took my seat for the debate, the man next to me whispered: "Who's side are you on?" After seeing the response from the students in line earlier, I reluctantly answered. The man quietly stuck out his hand to give me a fist pump and whispered: "Cool, we're on the same side." I laughed and asked him why was he whispering? He said because his wife was sitting next to him and she's a huge Obama supporter. In fact, he said they've been fighting so much over it that they might end up getting divorced! I kept thinking in my head: What's wrong with people??? Who REALLY cares??? Live and let live.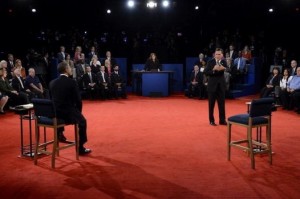 I was hoping to ask a question that night at the debate, but the people sitting in the town hall circle were preselected weeks earlier. My question would have been about what I feel is this country's biggest problem: The intense amount of hatred on both sides of the aisle. And you know where that comes from? A lack of leadership! Think about it. The best sports franchises (in any sport) are strong because it starts from the top. Strong management, a strong coaching staff, and players who follow that strength. TRUE leaders know how to bring people together.
It's no different with our country. If we had a strong leader who could bring people together, maybe our country wouldn't be "SO DIVIDED." My biggest pet peeve is during the State of the Union address when a President makes a statement and one side of the aisle jumps out of their seats in roaring applause while the other side sits on their hands. Dear Congress, you're all on the same f**king team!!! It's like having a sports team where the offense blames the defense and vice versa. All it does is create dissension and further division.
Look, I'm not saying that Mitt Romney is the savior that will bring people together. But my humble observation is that Obama has had 4 years, and all is see is further rage among both parties. It's unfortunate that the leaders who I feel could efficiently run this country want nothing to do with politics. They're in the business world and don't seem to want the headaches.
I didn't write this blog post to shove any ideas down anyone's throat. In fact, I honestly don't care who you vote for, nor should you care who I vote for. If you want to hate me and unfollow me because of who I'm voting for, go ahead, I really don't give a shit. I'm not the one who's going to miss out on stupid jokes and timely market calls 🙂 All I ask is that people be a little more tolerant and respect each other's ideas and beliefs. At the end of the day, we all have our own problems to worry about, why add to your burden by worrying so much about others, especially when they're not really bothering you?
I'll leave you with a quote from the great Paulo Coelho: "Many people have a clear idea of how other people should lead their lives, but none about his or her own."
God Bless You!…and keep in mind that we truly live in a great country!
Follow me on Twitter @jfahmy