My good friend Brent Fitz is an amazing drummer. He's currently touring with Slash & Myles Kennedy. Before their recent performance in New York, we got together to catch up on his busy touring life. Frank Sidoris also joined us (who by the way is one of the best young guitar talents out there). Here are a few things I learned during our dinner conversation:
1) Hard work. Once we sat down, I asked them where's Slash? Brent told me he's in his hotel room practicing guitar. In a surprised Allen Iverson tone, I said "Practice???" Just to give you some context, they were staying in a top hotel in Times Square and it was 11PM at night. The concert wasn't until the following evening. What went through my head was: WHY is he practicing? WHAT is he practicing? Why isn't he out having fun in NYC? Why does Slash even HAVE to practice?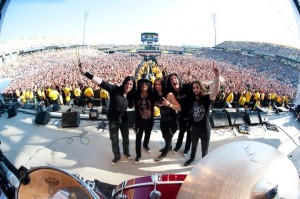 What Brent and Frank explained to me is that Slash is a perfectionist and an innovator. He's not only reviewing his music, but also working on new guitar riffs. He's a perfect example of the phrase "Repetition is the mother of skill." Then, it hit me: How many people in the world play guitar? Probably tens of millions (heck, even I have an old guitar sitting in my attic). But how many are in Slash's elite category? Probably about 10-20. What does it take to get into this elite group? Some would say it's a natural, un-teachable talent, which is partially true. I think it has more to do with work ethic, dedication, and doing the things behind the scenes that no one else wants to do.
2) Discipline. They went on to tell me about sound check prior to their shows. Like most people, I picture they get together, make sure it sounds good, and then go backstage to hang out. Boy was I wrong! Sound check is a 2 hour process where Slash wants everything PERFECT! He gets very mad if anyone's goofing around or not taking things seriously, and he's not afraid to tell you. Reminds me of the phrase: "Practice doesn't make perfect, but perfect practice makes perfect." Slash sounds like a true leader to me. No wonder the musicians who work with him are so sharp and disciplined. Their attitude is a reflection of the band's leadership.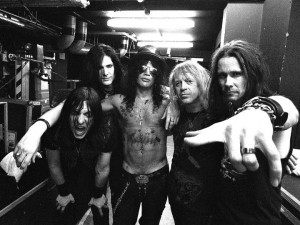 3) Stereotypes. I'm sure everyone has the same perception about rock stars. They all party, drink, do drugs, etc. NOT THESE GUYS! Some of them used to do all that stuff earlier in their careers, but they're all businessmen and true professionals. Not to mention good husbands, fathers, and loyal family members. I'm almost ashamed to admit I thought otherwise. One more thing, Slash works out hard…as you can see in the picture. Keep in mind he's 47 years old.
What do all these things have to do with stock trading? EVERYTHING! Think about it? How many people trade stocks? Probably tens of millions. How many do it well CONSISTENTLY and are in the elite group of money managers. Probably about 10-20. What separates this elite group from the rest? Hard work, discipline, and going that extra mile when no one else will. Believe it or not, our dinner was very motivating to me because that's what I strive for in my career…to be one of the best. That's what you should think about as well…or else you'll just be another musician…with a guitar sitting in the attic.
Here's a video of "Back From Cali," one of my favorite songs by the group.
Follow me on Twitter @jfahmy
Follow me on StockTwits @jfahmy