One Week Later…
I like to joke around on Twitter. I try my best to provide sound market commentary, but I also try to keep things lively and keep people laughing…even if they are laughing at me
But there's one problem this past week: Whenever I think of the horrible tragedy that occurred in Newtown, or see something on the news about it, I pause, get sick to my stomach, feel a little nauseous, think of my little niece and nephew, think of all my friends with kids, etc. (and I'm sure I'm not alone with these feelings).
Maybe I'm writing this for my own therapeutic relief, but this is just a friendly reminder to keep things in perspective over the holidays. Take a few moments to spend more time with family and friends, hug your kids a little tighter, remind someone you love them, perform a random act of kindness for a stranger, or volunteer a little time to help those in need. It will not only help to keep things in perspective, but it will also remind us of that amazing feeling known as GRATITUDE.
Most importantly, take a few moments to pray for the families of the victims, the first responders on the scene, and everyone else who was affected by this horrible tragedy. Words cannot describe what they must be going through, so remember them in your thoughts. A friend sent me this cartoon yesterday. I know those families are hurting, but the thought of this makes me know someone is watching over those little angels. Happy Holidays and God Bless You!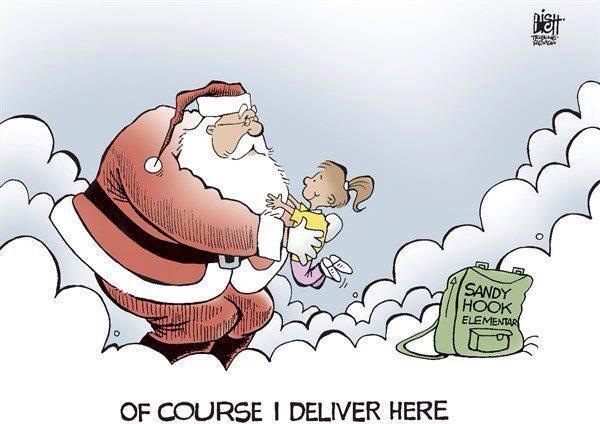 The information in this blog post represents my own opinions and does not contain a recommendation for any particular security or investment. I or my affiliates may hold positions or other interests in securities mentioned in the Blog, please see my Disclaimer page for my full disclaimer.
Joseph Fahmy is an Investment Adviser Representative at Zor Capital, LLC, a New York based investment management firm. Joe has over 19 years of trading experience...More »




Archives